Jordan Weigel, Lindsey Jarvis spend much of their summers entertaining at water spectaculars

08/19/03
John Denny
Respond to this story
Email this story to a friend


Two athletic, thrill-seeking teen-agers from the local area have channeled their energies into entertaining thousands at community celebrations throughout Oregon and Washington.

They display their talents as performers on water skis in show skiing, forming pyramids and performing ballet on water skis.

While others their age are basking in the sun at water's edge, they're working hard at practices, developing their talent and showmanship as members of two Portland-area water show organizations, the Rose City Water Skiers and Portland Water Spectacular. The two organizations merged temporarily this summer, when several members took some time off to give birth or to get married.

The girls are 13-year-old Jordan Weigel of Milwaukie, and 14-year-old Lindsey Jarvis of Oregon City. Jordan, the daughter of Kevin and Mary Weigel, will start the eighth grade at Aldercreek Middle School in September; Lindsey, the daughter of Oregon City police officer Mike

Lindsey Jarvis of Oregon City (atop the pyramid). Jarvis is an incoming freshman at Oregon City High School. (CRAIG MITCHELLDYER)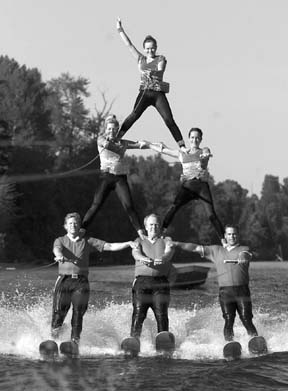 Jarvis and Patty Jarvis, will be a ninth grader at Oregon City High School.

The girls have been show skiing since they were 10 years of age, and they can't get enough of it.

Still, both girls struggle to explain what it is they like about the sport.

"It's everything about it," said Lindsey. "I just like it. I like showing people what I can do at the shows."

"This is my favorite sport....because I can do it whenever I want," said Jordan. "And if there's something I want to learn, there's someone there who can teach me."

"She looks forward to it all winter," said Mary Weigel.

Jordan Weigel of Milwaukie (atop the lift) gets her kicks performing at water shows. Weigel will be an eighth-grader at Aldercreek Middle School. (CRAIG MITCHELLDYER)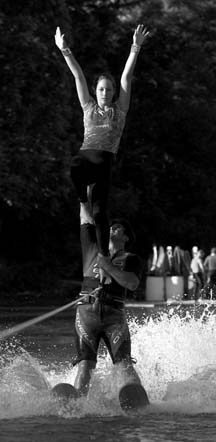 After some thought, Lindsey elaborated on her love of the sport: "I guess its because I've water skied my whole life....and when I walk down the hallway at school, people say, "Hey, That's that water-skier chick. People think it's cool. They say how brave I must be to do it; and they want to come and watch."
Three-day-a-week practices began in February with dry-land workouts at the Sherwood YMCA. The girls donned dry-suits for warmth and took to the water in April; they'll continue practicing into late September or October, depending on the weather.
They've already been a part of five shows this summer, performing in saltwater at the Viking Festival in Poulsbo, Wash. on May 17; at the Planters Day Festival on Horseshoe Lake in Woodland, Wash. on June 22; at the Arlington Big River Festival on the Columbia on June 28-29; at the Lake Oswego Corporation Fourth of July program on Oswego Lake on July 3; and they were part of the water show at the West Linn Old Fashion Fair, with four performances off of Willamette Park in West Linn the weekend of July 26-27.
Despite five years of experience, Lindsey says there are still times when she gets scared. On occasion, she'll be at the top of a pyramid that is pre-built on the dock, rather than formed over the water.
"It's very scary because I just think I would hit the dock if I fall. But I know there'll always be someone there to catch me if I do," said the Oregon City youth.
Because they are light-weight, Lindsey and Jordan typically end up on the top when three-level pyramids are formed.
Jordan, who was not a water skier when she first explored water shows as a 10-year-old, says how surprised she was that she remained relatively dry as she was lifted high during her very first practice.
"It was very cold and it was raining," said Jordan. "But it was a lot of fun."
"Jordan didn't start water skiing until about halfway through that first year," said Mary Weigel. "When you're a male you have to be strong and a good skier. But girls can come in as non-skiers. They just have to be really athletic. Jordan has always been active in sports and she has a very strong gymnastics background."
Jordan's athletic background includes softball, basketball, track and field and golf, besides gymnastics.
She gave up softball this summer so that she could devote more time to practicing for water shows. She is eager to learn and participate in all aspects of the sport, from chorus lines, to pyramids, adagio — which is like ice-dancing on water, swivel skiing and perhaps someday, the jumps.
Jordan is the only member of her family who does water shows, but her parents are actively involved, as her number one fan and supporter at shows and practices. They both help with equipment and her mom even announces at some of the shows.
While Jordan's introduction to the sport came through friends of the family, Lindsey learned about the sport at a boat show.
"I'd been water skiing since I was a baby," said Lindsey. "So when I saw some pictures at the Boat Show at the Expo Center, I had to give it a try."
She's also participated in volleyball and dance, but she's given up dance to make more time for water skiing.
Both the Weigel and Jarvis families plan their vacations around water skiing.
"Every summer our family takes a week-long water-skiing vacation on the Snake River near Pasco," said Lindsey. "We go with about 20 other people and we have a ball....
"It's in my blood. It's something I plan to do my whole life."
For information about checking out the area water show teams, Jordan and Lindsey encourage people to check out the websites at: portlandwaterspectacular.com, and rosecitywaterskiers.com.